Product Description
Full-Size 88-Note Piano. Play-Anywhere Portability. Smartphone-Powered Tuition
When you're learning to play the piano, having 88 keys makes a big difference. Although smaller 61 or 76-note keyboards are portable and easy to handle for younger players, an 88-note full-size keyboard helps you develop the correct technique and become a more expressive player. Most keyboards make you choose between performance and portability, but Roland's GO:PIANO88 delivers equally on both fronts. Lightweight and road-ready, with optional battery power and headphones, this mobile instrument has a full-size 88-note keyboard and sounds derived from Roland's best digital pianos, so you can play with the correct technique and expression – vital for classical music or more complex pieces. GO:PIANO88 also features high-quality onboard Bluetooth® speakers that hook up to your smartphone to create a simple and compact learning solution. Once connected, you can start exploring free online content that makes learning faster and more fun – including online piano lessons, karaoke and tutorial videos for your favorite songs – or just stream your playlists and jam along. Find a space, grab your smartphone, and start your musical journey with GO:PIANO88.
Standard Features
Premium piano performance in a compact, portable and affordable instrument
88-note keyboard with full-size keys and standard spacing
Onboard high-quality Bluetooth speakers for wireless smartphone connection
Compact and lightweight (7.0 kg) for playing and storing anywhere
Fully wireless operation with battery power and Bluetooth connectivity
Bluetooth MIDI support for advanced music lessons with your smartphone or tablet
Metronome, transpose and recording features support daily practice
Play anytime with built-in speakers, battery operation and headphones
Affordable and easy-to-carry second piano for experienced players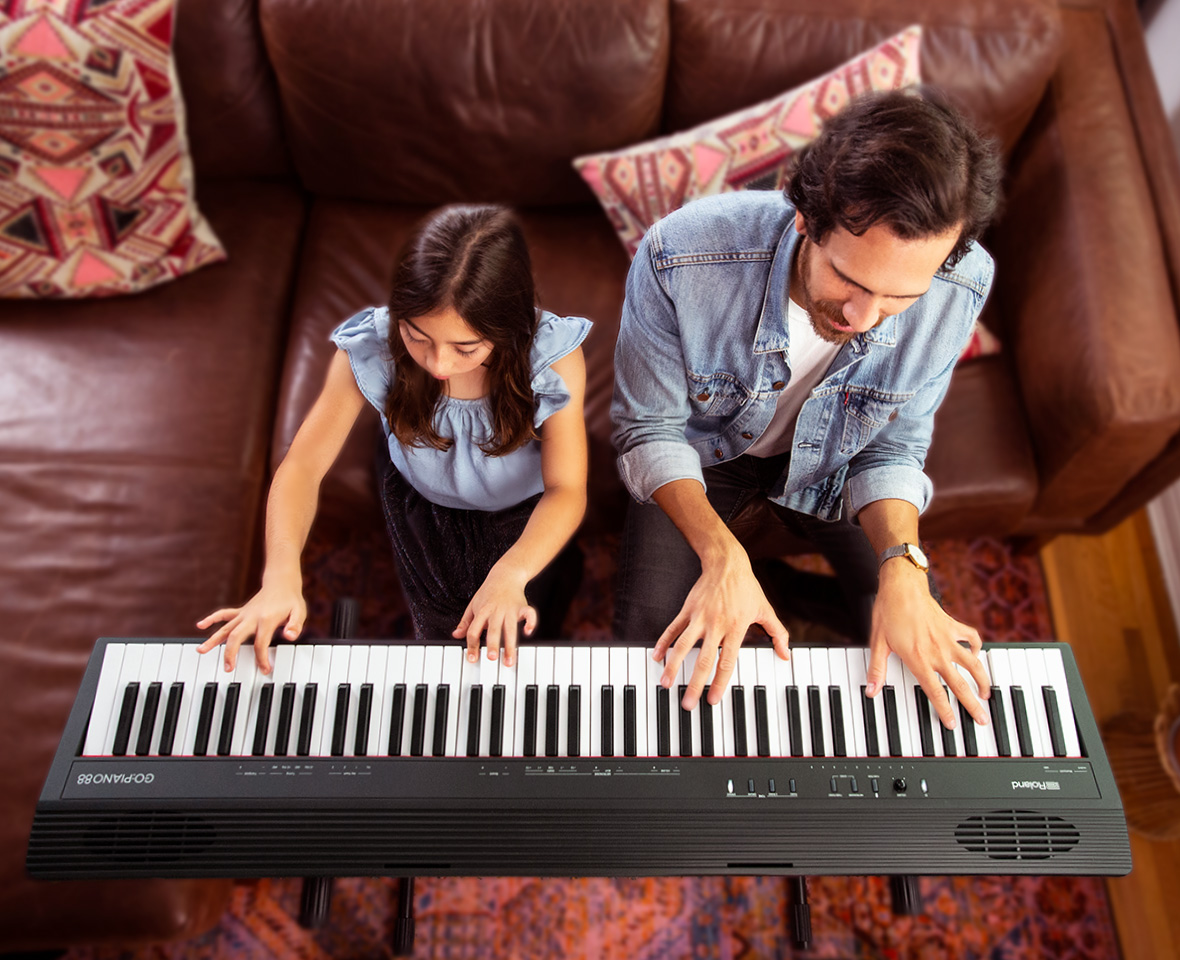 Enjoy Traditional Piano Feel with 88 Standard-Size Keys
GO:PIANO88 has 88 full-size keys for authentic playing feel and expressive touch inspired by the keyboards on acoustic grand pianos. Having the full range of notes lets you play more demanding music and helps develop the correct techniques for both left and right hands. It also ensures a smooth transition should you play a weighted hammer-action keyboard. And even if you invest in a premium piano, your GO:PIANO88 is the ideal portable instrument for slinging in a gig bag and playing at rehearsals, sessions and shows.