Product Description
| | |
| --- | --- |
| MSP stands for Magnet Sandwiched Pickup. It is made with Neodymium magnets and a piezoelectric element. The installation of the MSP is innovative. A positioning magnet and an additional magnet in the MSP device hold the MSP's piezoelectric element in place. | |

Characteristics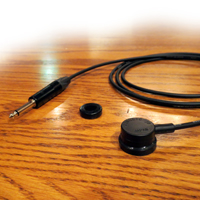 MSP is capable to capture details of acoustic instruments. Two Neodymium magnets, one within the MSP and an additional Positioning Magnet, push the piezoelectric element toward the soundboard. This provides louder and higher quality sound without the use of a pre-amp. You can use more than two MSPs on an instrument for each playing style.
There is no modification needed and no damage caused to musical instruments. The installation is very easy. Because MSP is kept in place by magnets, musical instruments are not damaged or dirtied due to adhesives or the like. The MSP is placed outside of musical instruments, so it can be installed without any through hole. Because there is no wiring inside of instruments using MSP, there is no unwanted sound caused by problems with such wiring.
MSP does not fail. It is an easily removable contact pickup. The sound emitted from the contact pickups depends on the attachment position. The free movement of the positioning location allows the player to control sound output based on their preference.

Contents of MSP kit
*How to install the Positioning Magnet with the Positioning Magnet Setter*
When your hand can't reach the desired position for the Positioning Magnet, use the Positioning Magnet Setter. These are some examples: ukulele, woodbass, etc.